---
Buy images from Brian Stubbs Photography
---
Let me provide you with the large prints, albums, photobooks, presentation folio boxes and digital images you want.
Book a photography session at your yard or home - contact Brian for details of available dates and times. A pre-paid deposit of £50.00 secures your session date and the deposit is redeemable against orders for prints and digital images. Travel will be charged at £0.45 / mile for destinations more than 50 miles from Wincanton.
Prints are top quality made using long lasting pigment inks on specialist photographic paper.
They will not fade away in the space of a couple of years.
Mounts are cream core board with a bevelled edge around the image. The backs are cream core boards and together they are ready to be put into a frame without additional mounting materials.
The mount ensures breathable space between the photograph and any glass, protecting the image and showing it off at its best.
Photo albums, photo books and custom folio boxes are provided by a specialist printing business and are usually available around 2 weeks after ordering. Please allow time for this if they are to be gifts for a special occasion.
Product images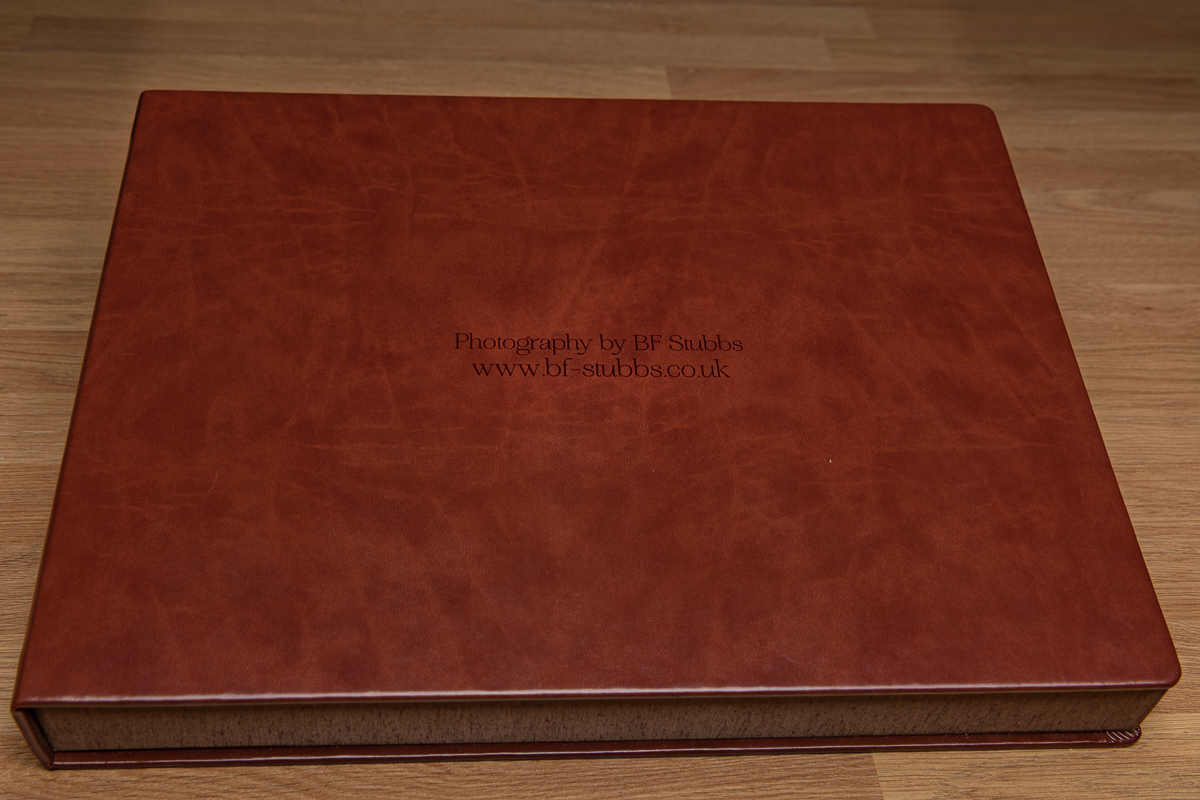 This is the Folio Box for prints. Custom made with ribbon to assist in accessing the prints held within. The front of the box can have custom text added such as your horse's name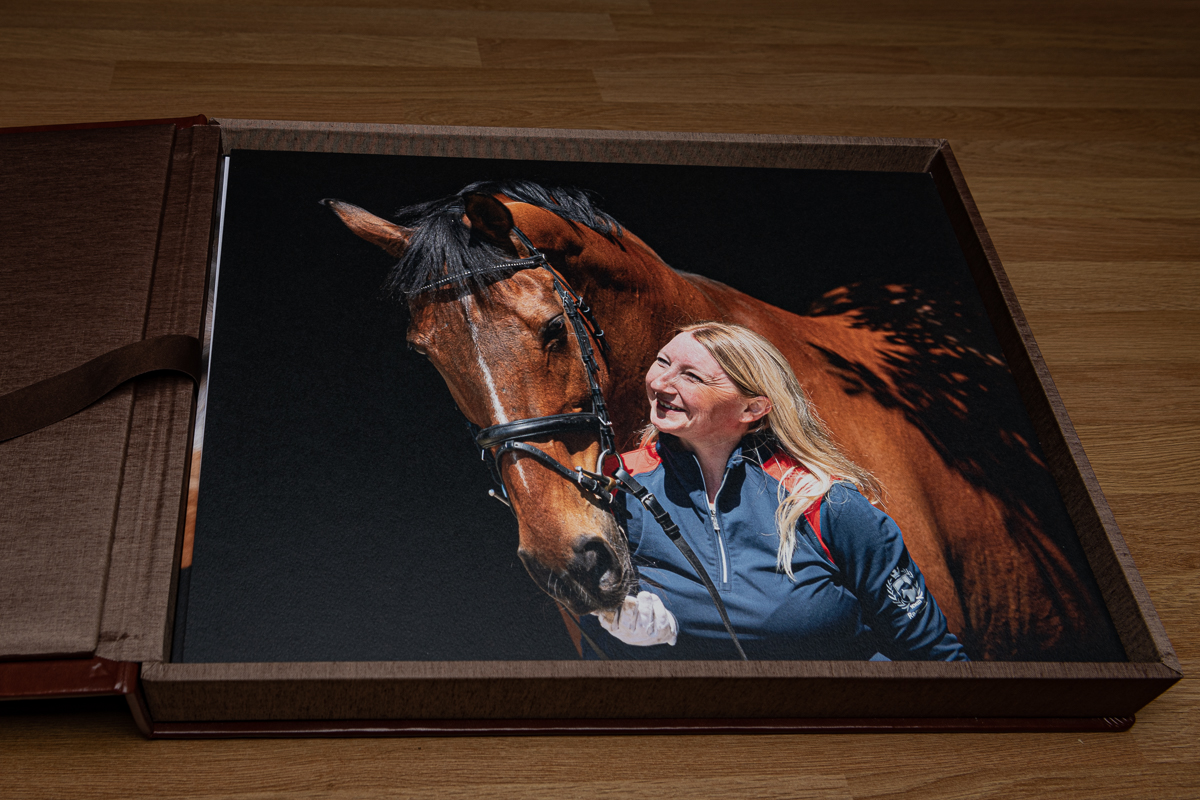 Here you can see the Folio box open to reveal the board mounted prints within.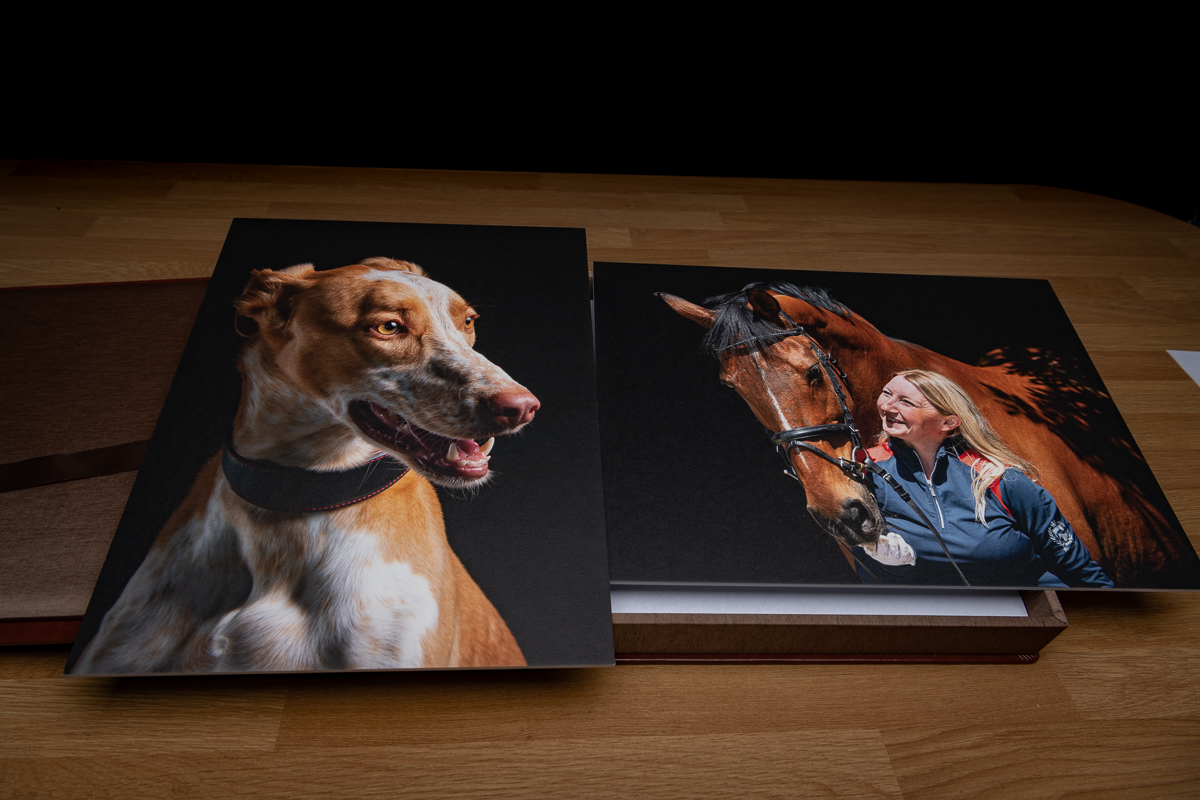 The board mounted prints are light but rigid and capable of being displayed stood up on a shelf or an easel.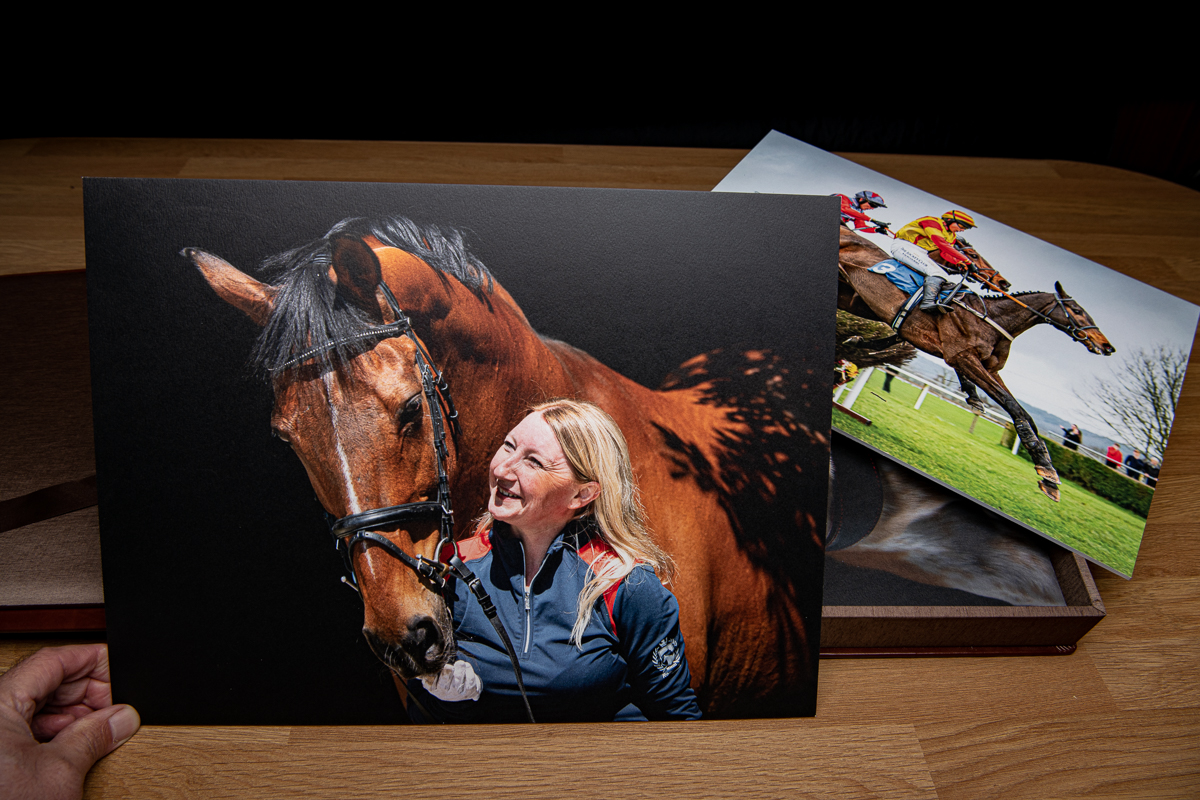 The ones displayed here are printed on Mohawk eggshell which gives a lovely textured finish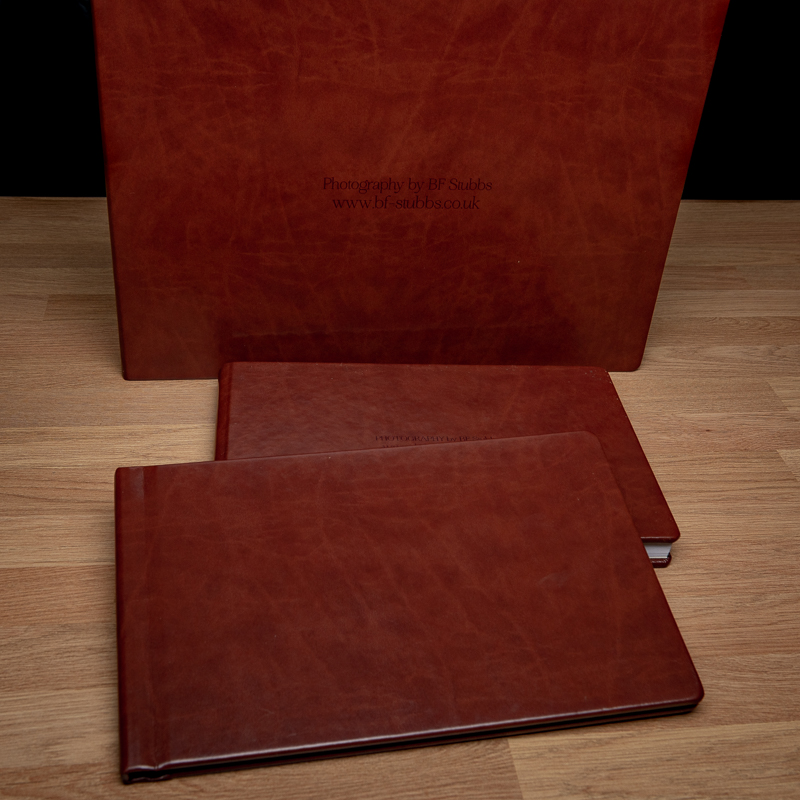 Here you can see the folio box in the background with a photo album and photobook in front. All the displayed products here have a faux leather finish.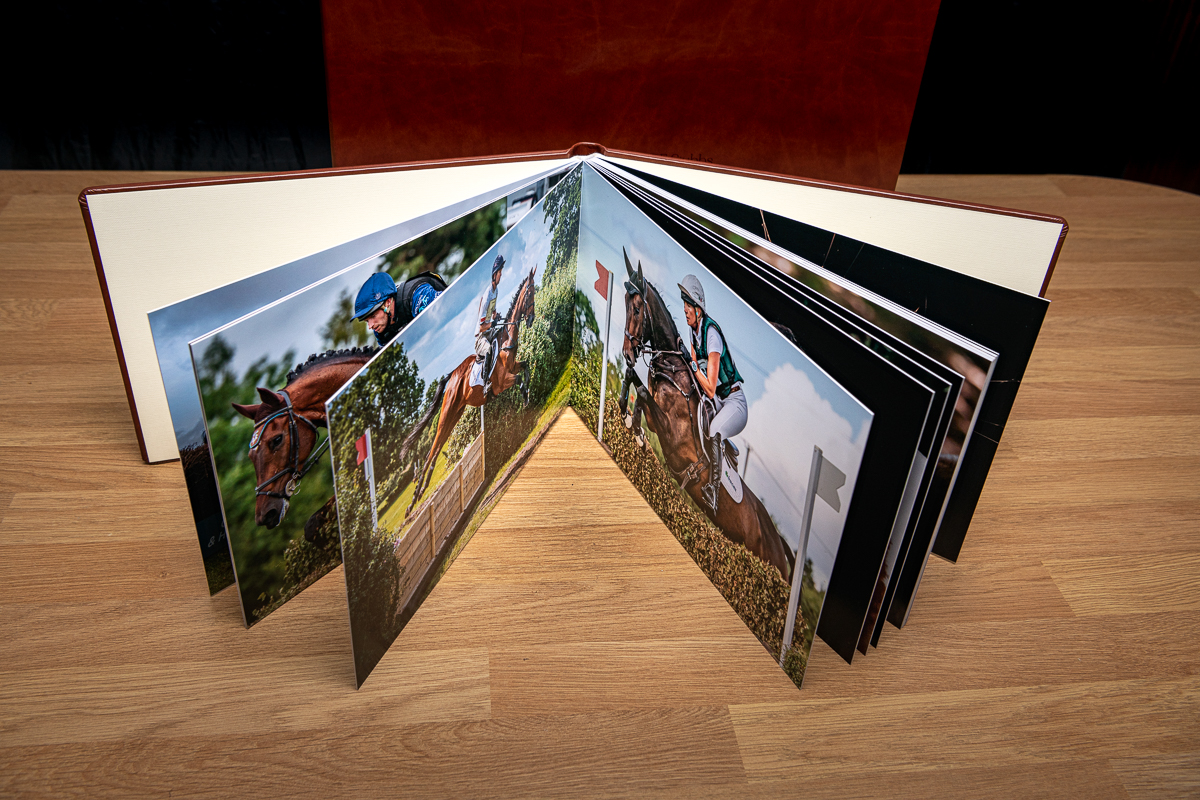 The Photo Album is printed on rigid pages featuring 800gsm spreads in a lay-flat binding so that you can view an image over a double-page spread should you wish.
This photobook (lower part of the photograph) is a high-end product with a lay-flat format printed on flexible paper using an inkjet technology to produce vivid colours, natural black and whites, and sensational overall clarity.
This is an A3 printed image in a 500mm x 400mm mount ready for framing or to dispay as is. Quality photographic paper is used and the image is printed using high quality, long lasting, pigment inks rather than dyes. This image, unlike many cheaper products, will not fade away in a couple of years.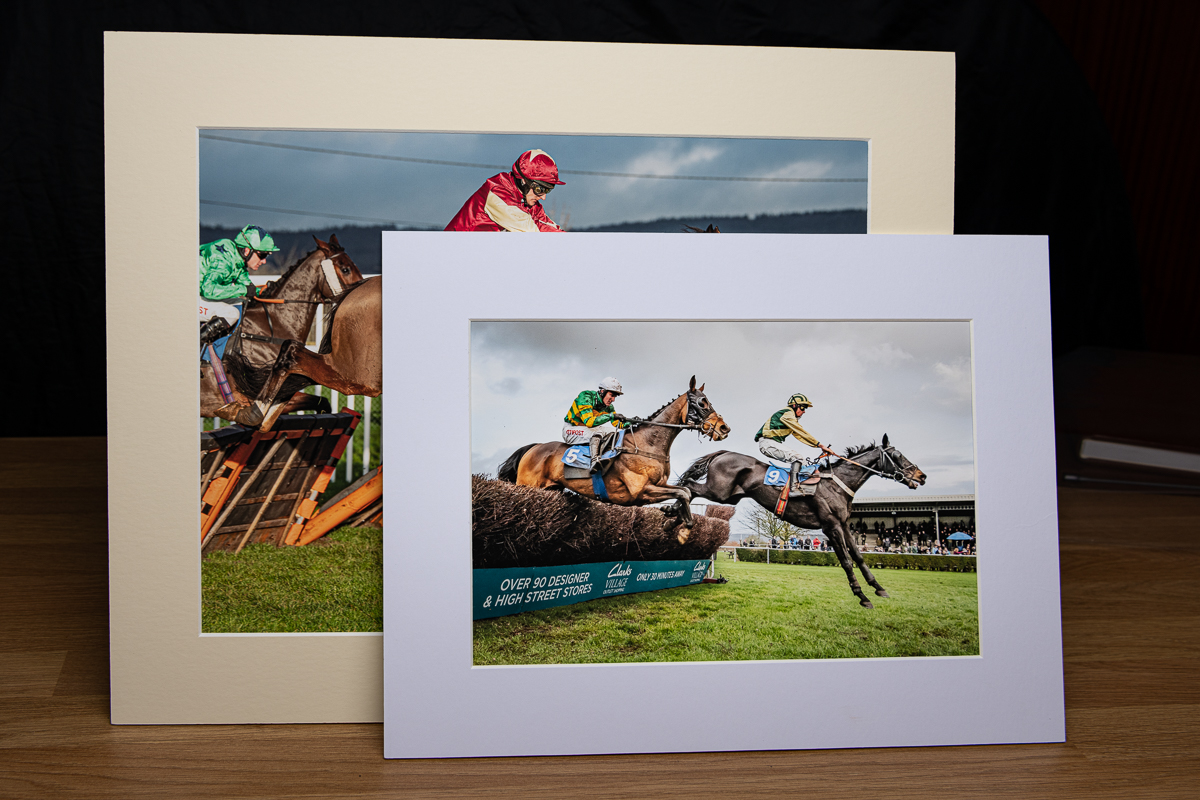 This image shows the A3 image behind and the A4 image in front for size comparison purposes. The smaller image has a white mount. All mounted images also have a backing board for better protection and to prevent wrinkling when framed.
This is an example of an image given a more artistic treatment and then printed on textured paper. The mount is 500mm x 400mm and the image is A3 size.
This image shows an A3 portrait orientated photograph in a white mount. The inner edge of the mounts are bevelled to better show off the photographs.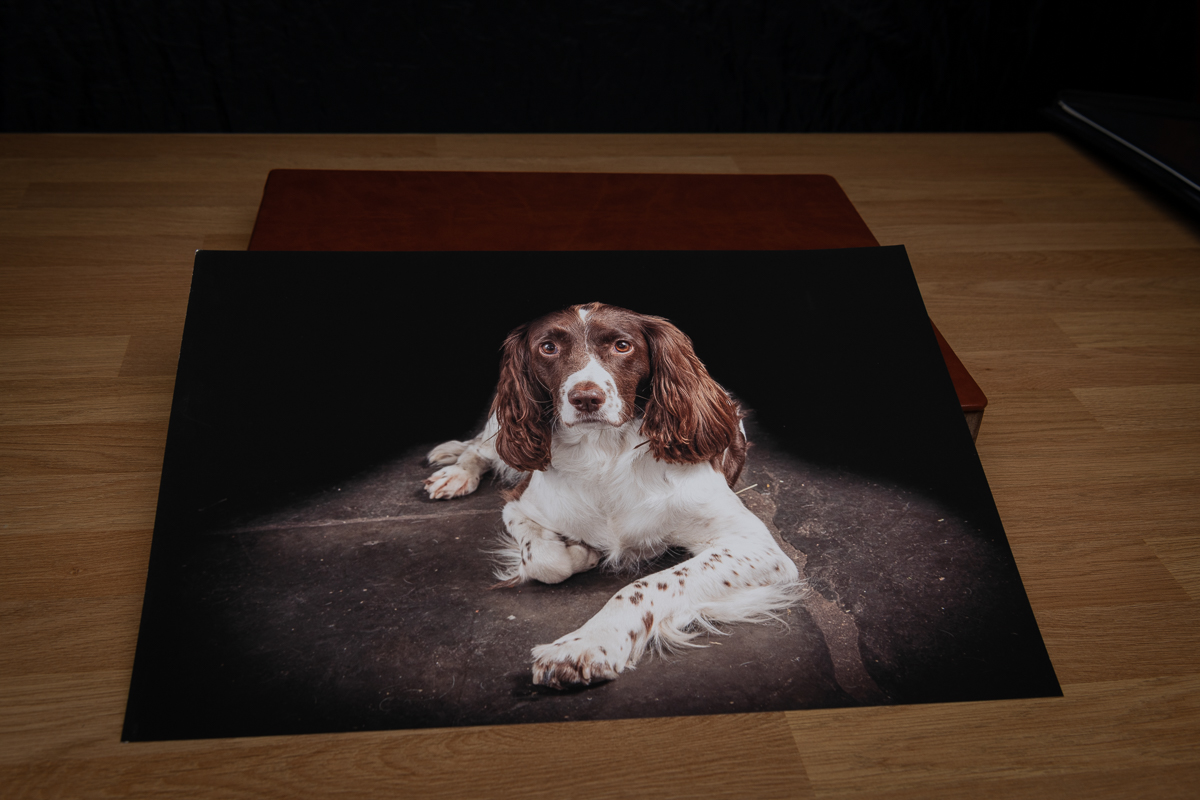 This is an A3 print on quality paper showing colour and texture of the subject.
An example of an A4 printed image, again, on quality paper using long-lasting pigment inks.
Product Pricing
Item
Price
P & P
Total to pay
Colour print 15" x 10" on specialist photographic paper
£ 30.00
£ 7.87
£ 37.87
Colour print 12" x 8" on specialist photographic paper
£ 20.00
£ 1.16
£ 21.16
Colour print A5 on specialist photographic paper
£ 12.50
£ 1.16
£ 13.66
Mount 500mm x 400mm with 15"x10" Colour print
£ 40.00
£ 9.13
£ 49.13
Mount 400mm x 300mm with 12"x8" Colour print
£ 30.00
£ 8.05
£ 38.05
Internet quality digital images - each. These are not suitable for quality printing,
typically 106KB 72dpi 1080x720 pixels in size
£ 10.00
£ 0.00
£ 10.00
Internet quality digital images - for 10. These are not suitable for quality printing,
typically 106KB 72dpi 1080x720 pixels in size
£ 70.00
£ 0.00
£ 70.00
Internet quality digital images - for 20. These are not suitable for quality printing,
typically 106KB 72dpi 1080x720 pixels in size
£100.00
£ 0.00
£100.00
High quality digital image licence (Suitable for printing)
These are typically around 43MB 300 pixels per inch 8256 x 5504 pixels in size
and are suitable for publishing or printing upto at least A2 size.
-
-
£ by arrangement
Hardback photobook 12" x 8" with 20 pages (10 spreads)
£ 200.00
£10.00
£ 210.00
Hardback photobook 12" x 8" with 30 pages (15 spreads)
£ 300.00
£10.00
£ 310.00
Hardback photobook 18" x 12" with 20 pages (10 spreads)
£ 425.00
£10.00
£ 435.00
Hardback photobook 18" x 12" with 30 pages (15 spreads)
£ 500.00
£10.00
£ 510.00
Hardback photo albums sized as above for photobooks - these have rigid 800gsm fold flat pages
As per photobooks above
£10.00
As per photobooks above
Custom made Folio box with 5 board mounted prints 12" x 8"
£150
£10.00
£160.00
Custom made Folio box with 10 board mounted prints 12" x 8"
£225
£10.00
£235.00
Custom made Folio box with 5 board mounted prints 16" x 12"
£200
£10.00
£210.00
Custom made Folio box with 10 board mounted prints 16" x 12"
£300
£10.00
£310.00
We do not charge VAT and postage will be charged additionally where required.

These rates apply to images shot on location, at your yard for example, and to any images you see in the Image Folders collections.
Artistic works, where substantial digital editing has been performed, will be charged on an individual case basis.
Updated 08/09/2020
---